The Fool Tarot card is the first card of the Major Arcana. We often see the fool when we are starting something new in life. Opportunities are in front of us and we need to consider our options.
The Fool's number is 0, which means it's a complete new beginning or a starting point.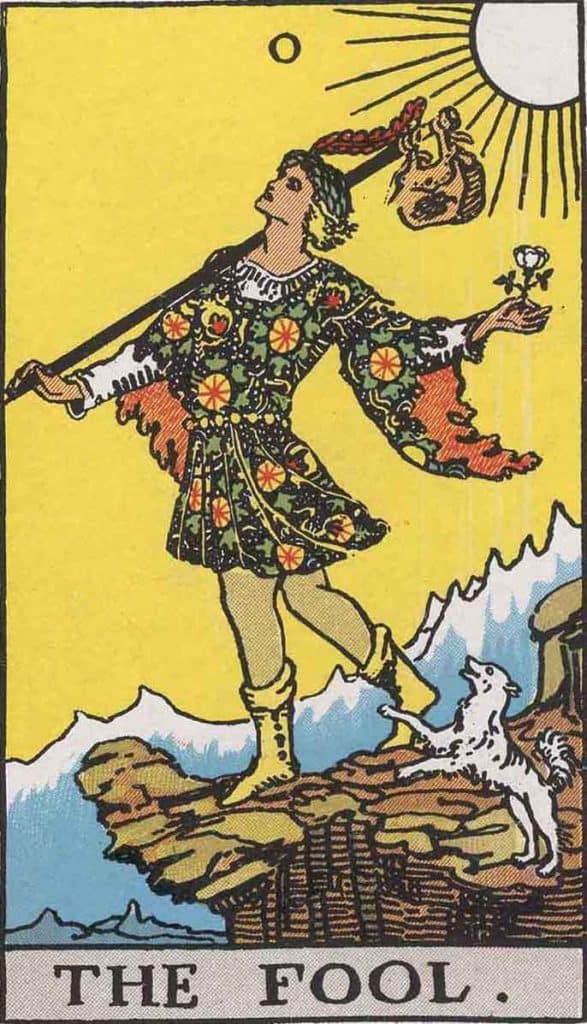 The Fool Card Description
In the Rider-Waite tarot deck, the fool has his bag over his shoulder with all of his belongings and a rose in the other hand. He is confident and ready for adventure – but he is also on the edge of a cliff. If he doesn't look carefully at his surroundings, he just might fall off! A playful dog by his side shows the carefreeness of the fool.
When we see the fool card in a tarot reading, it asks us to imagine ourselves as the fool. Are we 100% aware of our surroundings? Are we engaging in risky behavior that could put us in harm's way? Or, in contrast are we being too careful in life? Maybe it is time to take some chances.
Upright Fool Tarot Card Meaning
The Fool card doesn't warn you to be afraid of your actions, but rather asks you to consider what you are doing and why. This card often indicates that we should do things without fear or hesitation, but we need to make sure we are doing them for the right reasons. It asks us to explore our motivations in our next venture – whether it pertains to your career, relationships or other aspects of life.
When we see the fool tarot card, we should make sure that we are prepared for what is next in life. Things tend to go more smoothly in life when we have a plan. Researching your options and visualizing the different scenarios in your life can help you make wise decisions.
The fool tarot card can also mean that you have no fears in life. You have experienced a lot and have conquered all of your fears throughout your journey in life.
The Fool Card in Your Career
We often see the fool card in readings that pertain to work and careers. You may be exploring new business opportunities.
If you are considering a career change or starting a new business, the fool can help us better understand our situation. Ask yourself – am I taking too many risks or not enough?
Playing it safe in our career and businesses can give us stability and security – but it can also limit our growth, not only in a financial aspect but a spiritual one as well. The challenges we experience in life all work to help us become better people.
We also often see this card when planning is important. You need to do your research before making any rash decisions. You know the saying – it is better to be prepared than to be without.
Of course, no amount of planning will get you very far if you do not take the first steps in putting the plan in action. The Fool reminds us that we can make plans for a better future, but it's up to us to follow through with them.
The Fool Card in Relationships
If you are not currently in a relationship, the fool card can be applied to how you feel about your single and dating life. You may be unsure of what to do next in your romantic life, but you are considering your options. You might be afraid of getting too close to someone – and yet without getting close to anyone we risk losing the relationship.
If you are in a relationship, the fool is all about learning how to express yourself to your partner. You may be struggling to understand how to share your true feelings about challenges in your current relationship. You may need to do some work in understanding your partner and you should consider their viewpoint objectively.
The fool card reminds us to take chances with our relationships. It can be scary to be vulnerable and open up to someone, but that chance is often work the risk because it can help us grow closer to the other person.
The Fool Card in Personal Development
The Fool tarot card often symbolizes the ability to think creatively and outside of the box. A person who is following their instincts and acting upon experiences instead of just relying on logical reasoning.
The fool is a card that encourages you to truly find yourself. We often see this card when we are exploring new territory or thinking outside of our usual security bubble.
Reversed Fool Tarot Card Meaning
When the fool tarot card is upside down, it can mean you are jeopardizing your future . Maybe you are considering a new business venture that is very risky, or maybe you are risking losing a relationship because you are not committed.
A reversed fool card sometimes means you may have made mistakes in life, but you are doing what you can to correct your mistakes by making better choices.
You may not be able to see things clearly in your life. This can be another obstacle that we have to overcome in order to make the most out of our present situation.
To understand the meaning of the fool tarot card in a reading, we need to consider how it relates to our questions. It's also important to look at how the fool card interacts with the other cards in the reading.
Do you have anything to add about the Fool Tarot card and what it means when you draw it in reading? Share your thoughts in the comments section below!